The recently released Christian Worship: Apology of the Unchanging Forms of the Gospel was the featured content at the 27th Annual Lutheran Free Conference in St. Cloud, Minnesota on October 29th.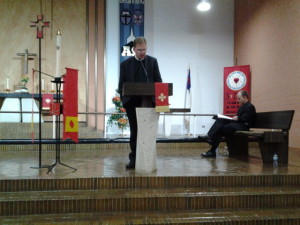 Both Holger Sonntag and Paul Strawn, coauthors of the work, spoke on nine different themes found within the book which itself further seeks to clarify the theology of worship as it is found in the Lutheran Confessions. (Full audio can be found here.)
On his blog Theology Like a Child, librarian and theologian Nathan Rinne has summarized the five hours of presentations in an eight-part series entitled Is a Faulty View of Sanctification at the Root of the Worship Wars?
A concise summary of the arguments made can be found here.